Root canal treatment in Liverpool
Are you tired of letting tooth discomfort hold back your vibrant smile? Say goodbye to persistent pain and hello to a renewed sense of well-being with our cutting-edge root canal treatment clinic in the heart of Liverpool.
Our highly skilled and compassionate dentists bring years of experience and training to every procedure. With a passion for restoring oral health, we specialize in delivering pain-free root canal treatments that prioritize your comfort and peace of mind.
Step into a soothing environment designed to make you feel at ease. From cozy waiting areas to advanced treatment rooms equipped with the latest technology, we've crafted an atmosphere where relaxation and exceptional care converge.
What is a root canal treatment ?
A root canal treatment, also known as endodontic therapy, is a dental procedure designed to treat and save a tooth that is severely decayed, infected, or damaged. The procedure involves removing the pulp tissue, which is the soft inner part of the tooth containing nerves, blood vessels, and connective tissue, from the root canals. The canals are then cleaned, disinfected, shaped, and filled with a special material to seal them, preventing further infection or decay.
When is root canal treatment performed ?
Endodontic treatment is necessary when the pulp is infected. The main causes of this problem are: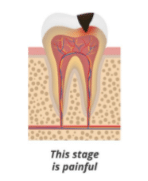 1. Untreated Carries
Carries that are not detected can lead to complications such as sensitivity to cold or hot stimuli that are not subsiding unless the patient takes painkillers and can affect the patient's daily routine by disturbing the night's sleep. Easy Dental encourages our patients to return for regular checkups every 6 months so we can prevent these unfortunate events from happening through a thorough
examination and radiological control.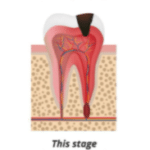 2. Tooth abscesses or cysts
If the carries are left untreated can lead to pulp necrosis (the nerve of the tooth dies) and abscess forming at the tip of the root. This stage can be extremely painful and can have episodes of swelling on the side of the face where the infected tooth is located.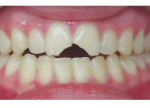 3. Teeth injuries
Traumatic dental injuries can occur in people of all ages and activity levels. The cause might be a car accident, a fall down the stairs, or an elbow to the face during a basketball game. As with most types of dental treatment, the primary goal when treating a traumatic dental injury is to save teeth at risk of being lost and restore them to full function and normal appearance. In many cases, the difference between saving and losing a tooth depends on taking the proper action in the immediate aftermath of an injury.
Root Canal Treatment Process Overview
Root canal treatment has a high success rate and is a way to save a tooth that might otherwise need to be extracted. It alleviates pain, removes infection, and restores the tooth's function and appearance. It's important to address any dental pain or discomfort promptly, as delaying treatment can lead to more severe issues and complications. If you suspect you might need a root canal, it's best to consult a dentist for a proper evaluation and recommendation.
Root Canal Treatment - Dr Bogdan Banica
5 * Root Canal Treatments in Liverpool
Had root canal and a filling put in last May. Can't rate this place enough. Im from guernsey originally and until last year have been lucky to not need a dentist then had to find one pretty quickly! Easy dentals staff went beyond to keep me calm with their friendly atmosphere and staff. Had to go back today and found out I needed a filling. They did it there and then and once again went out their way to help me as I'm a nervous patient with a massive fear of needles. They really kept me calm and I fully recommend their services to anyone needing a dentist in liverpool. Thanks again to all the staff. Sophie
Having newly moved to Liverpool as a student on a limited income, I was nervous to try a new dentist in case of being overcharged or just being told I needed lots of unnecessary and expensive treatment. Compared to the other dentists within the city centre, easy dental was the cheapest, with a fixed filling price of 120-125, whatever the size. They run an extremely clean and professional practice, they keep you informed throughout the whole process and have always presented me with all options and never urged me towards more expensive things. The whole team and reception is so friendly! When I attended, I was struggling with an old filling that was broken and had changed the shape of the tooth, causing pain. They replaced the filling but it was still giving me issues. They offered for me to come for free in case it was a problem with the filling they had made, but even when it turned out to be a completely separate issue (their filling was perfect) the appointment was still free and they also did more work to change the shape slightly to sort my issue out, all for free! Overall, a really great little practice- you're in safe hands for sure. Thank you so much!
Cristina Simon
2023-02-09
Excellent service from start to finish, we called on Saturday morning as my husband was in a lot of pain and we were seen that day with a resolution, extremely friendly service and most welcoming, will put anyone at ease if nervous about dental procedures, we will definitely be back for any future dental work. Thank you guys!
Simon Bayfield
2023-01-21
👌👍👍👍
Cristina Bayfield
2023-01-21
Professional dentists. Our family is now registered with them and the service we receive is great. My daughters are not afraid of going to the dentist anymore. ⭐️⭐️⭐️⭐️⭐️
Alexandru Botofei
2023-01-21
Been here a few times, always had a good experience, friendly staff and the advice from the dentists has always been useful, I highly recommend this clinic